Here is a riddle: what messaging app has a wide reach, a variety of cool features, and is easy to use for consumers and businesses? What's more, it has been recognized by Coca Cola, the World Bank and the United Nations as a great way to connect with people around the world. No more guessing! It's Viber. 
Not only is Viber a perfect go-to communication app, it's a powerful tool for businesses and marketers that literally gets a message out there. Most people use chat or texting apps on the daily basis. In fact, 95.6% access messaging apps regularly. Viber has been downloaded over 1 billion times on Android alone, and is available in over 190 countries – this makes it an obvious choice for brands to reach their audiences.
Viber for Business solutions can be used to attract new customers, build loyalty among existing customers, and drive sales. And it is so much more than an advertisement platform – Viber helps companies stand out from the competition thanks to its wide range of features and solutions.
Here are some examples on how brands can creatively use Viber:
Viber Lenses is a feature that allows users to add fun effects and visuals that can be applied to express emotions and moods, or simply to decorate photos and videos. Businesses can design their own personalized, branded Lenses to attract people's attention, and also appeal to Gen Z clientele, resulting in the brand going viral.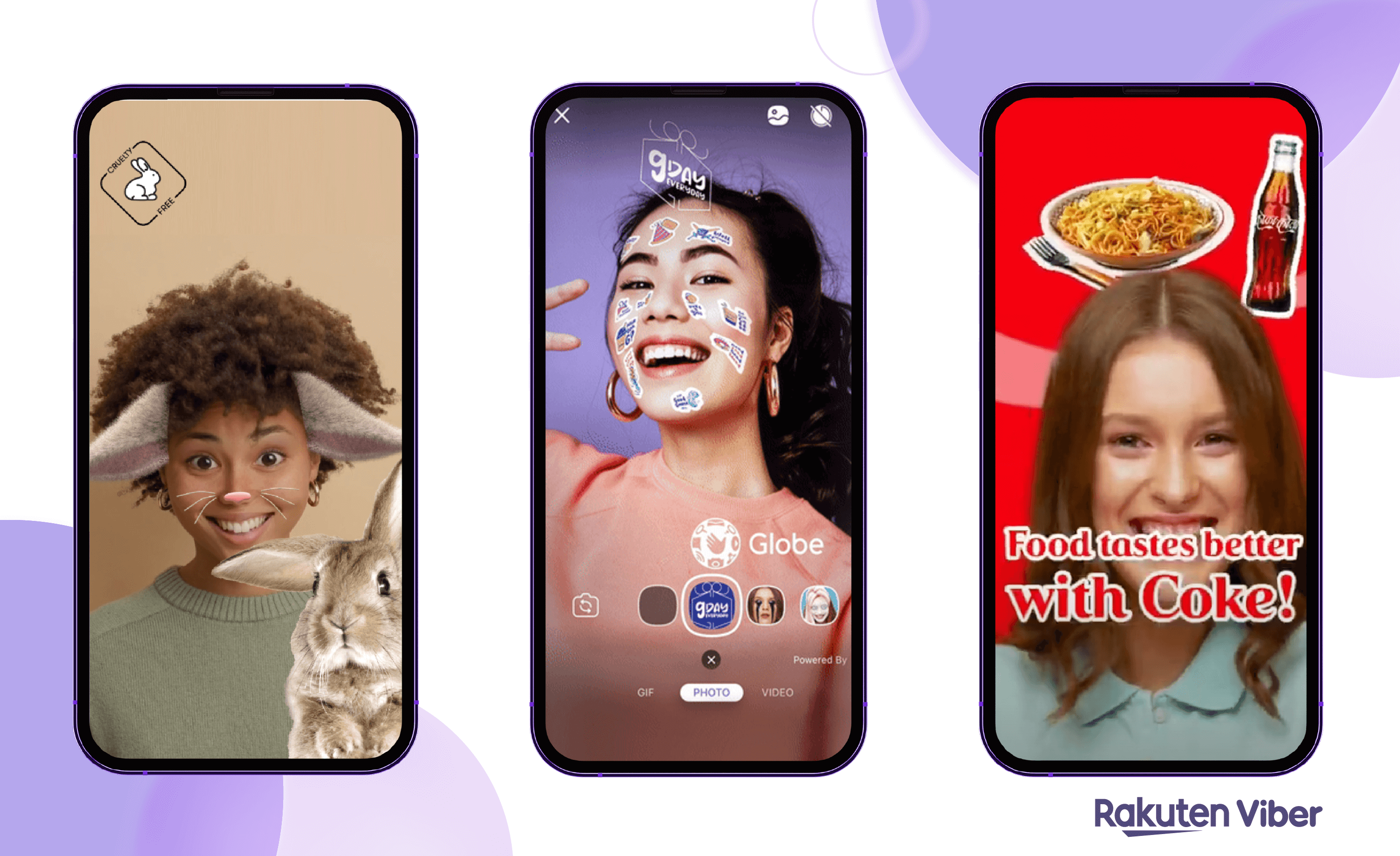 Another great option is creating stickers and sharing them with your customers. Over 1 billion stickers are sent every month, making them one of the most popular Viber features. Users can then send those stickers to their contacts, with the brand as part of the messaging thread. Businesses can easily integrate Viber stickers into their marketing strategy and use them as part of brand building and audience engagement efforts. 
Viber's function of sharing videos can be used by businesses to provide useful tips and tricks, instructions, and other information. This way, customers can quickly access the information they need and get on with their day, without having to search for and read lengthy content. 
These are only some of the tools that can help your brand generate eye-catching and attention-grabbing content. Don't forget about the standard set of features available to brands including text, images, and emojis. Follow our website and blog for ideas, innovations and case studies.
To illustrate the above, here are some examples of how companies  and organizations use Viber to reach and engage with their audiences in creative ways. 
Foodpanda, a mobile food delivery marketplace, used Viber to improve its customer experience and build awareness in Bulgaria.
In order to increase audience engagement and drive traffic to their brand-new Viber chatbot, foodpanda released two sticker packs and promoted them, targeting Viber users via Ads.
The campaign has been a tremendous success, with a large spread across Bulgarian users on Viber: more than 3.1M exposed users either through Stickers or Ads, over 556K sticker packs downloaded, 12.8M+ impressions recorded, and 700K+ weekly interactions within foodpanda chatbot.
Raiffeisen Bank is another example of using Viber's creative elements for a deeper connection with its clients. 
The bank wanted to boost its mobile footprint, interact with current and new customers in Serbia, and provide an integrated digital experience.
Raiffeisen Bank created an animated Viber sticker pack that led people to subscribe to their chatbot upon download. For high engagement and quality customer support, both a sticker pack and a chatbot were made in Serbian.
A Raiffeisen Bank sticker campaign has been a huge success among Serbian Viber users, generating increased brand awareness and audience engagement with the chatbot: 850K exposed Serbian users, over 209K sticker packs downloaded, and over 120K chatbot subscribers recruited.
See more examples of how brands are employing innovative ways to attract people via Viber 
A more personalized and creative way to communicate with your customers
We live in a world where everyone is always on the go and communication is key. In this fast-paced environment, people are looking for easy-to-use services that can help them communicate quickly and easily.
Viber is constantly working to improve services and provide the best messaging and calling experiences to its audiences in over 190 countries. The main goal is to make it easier and more convenient for people to connect with other people, and the company is always on the lookout for new features that will help achieve this. 
The same is true for Viber for Business. The messaging app has evolved into a SuperApp and became a great business tool for companies of all sizes. 
Learn more about our solutions fro businesses.
It's easy to get started, and once you do, you can expect to see an increase in customer engagement, leads, and sales. Be sure to check Viber Success Stories for inspiration!