Over 60% of consumers use their smartphones for online shopping, and more than 72% of e-commerce sales happen on a mobile device. Mobile shopping is growing faster than any other channel, but so is cart abandonment.
The average rate of quitting the purchase process is high, despite the continuous improvement of eCommerce platforms. For example, in several countries in the EU and North America, in Q2 of 2022, more than 80% of carts created on mobile devices did not result in a purchase. In the US this indicator is 84%, in France – 89%, and it reached 90% in Canada, for all industries.
For certain industries, such as Luxury, Fashion, Mobile Providers, Airlines, and Cruise & Ferry, according to Statista, anywhere between 87 and 98% of carts were abandoned in 2022. 
Studies show that on average 80% of mobile shoppers have quit the purchase process. That means that for every 10 people who add something to their cart on their phone, only 3 of them will actually go through to the checkout.
What are the reasons people are abandoning their purchases on mobile?
Three of the biggest reasons are lack of trust, poor user experience, and hidden fees.
Lack of trust is a huge issue when it comes to online shopping. Shoppers are hesitant to hand over their personal and financial information to a website they need to familiarize themselves with. This is especially true for newer businesses that just open up.
Poor user experience. If a website is difficult to navigate or slow to load, people are likely to give up and go somewhere else.
Last, but not least – the hidden fees. If people feel like they're being nickel-and-dimed, they're likely to abandon their cart and take their business elsewhere.
Make it easier for customers to purchase on mobile devices
Cart abandonment is a very serious issue that costs companies billions of dollars in under-earned revenues. For example, Baymard Institute estimates that at least $260 billion worth of all lost orders in the US and EU are recoverable with better checkout conversion rates. 
There are a lot of reasons why clients don't finish their orders and there are a few things that can be done to lower the rate of abandonment:
Simplify and optimize the checkout process
Follow up with shoppers who abandon their carts
Offer personalized codes for discounts or free shipping
Be accessible and available to answer questions in real-time
Remind clients of sales for items and services they were interested in.
Support is key and can help you keep the client. You should always be there for the consumer.
And messaging apps are the best way to communicate with your customers with a personalized message and let them know you're here for them. By sending messages directly to consumers' phones, businesses can cut through the noise and reach people even when they're on the go.
Viber Business Messages offer a more personalized way to communicate with your customers. You can connect with your users at different steps of the buying journey, from choosing the product to post-purchase engagement. And with Viber Chatbots, you can automate conversations with your client, reducing wait times and maximizing conversions. The platform offers a suite of tools for companies of all sizes, from one-on-one customer support to large-scale marketing campaigns.
The benefits of using Viber Messaging Solutions solutions are multiple: 
Increased sales: the app helps you recover abandoned carts and increase loyalty among your best shoppers with a variety of in-app marketing features.
Improve user satisfaction. You can send targeted messages to your customers, to increase loyalty and buyer approval. Ensure that your interactions are always relevant and stress-free for your audience.
Increase conversion rates by guiding your clients every step of the way. Viber allows users to keep all the essential information in one place, preventing users from jumping platforms as it causes search/shopping fatigue.
Lower costs: Viber Business Messages is a cost-effective way to reach your buyers. You pay only for delivered messages. Brands using Chatbots get 10,000 free chatbot-initiated messages monthly; messages initiated by a subscriber and subsequent 24-hour conversational sessions are free.
Besides recovering abandoned carts, you can simultaneously increase loyalty among your customers with Viber
It's an authoritative tool that can be used by any company to increase user engagement. Viber Business Messages are a one-to-one messaging solution that will help you send personalized, tailored messages to your buyers, to increase engagement and trust in your brand. 
You can use it to send special offers to your most active shoppers and keep fostering positive attention towards your brand. Plus, Viber Business Messages offer a host of other benefits, including seamless integration with your existing CRM, CDP, or marketing platforms, rich media support for images and videos, cost-optimization, guaranteed timely delivery, and so much more. 
Moreover, from the usability standpoint, it's easy to set up and start using right away. You can arrange one-time messages or create automated workflows with just several clicks. Viber makes sure to realize all of its numerous features in a simple and straightforward structure. If you ever need any help, the Viber support team will be glad to assist with any questions regarding your account. 
About Commercial Accounts on Viber
From a business perspective, Viber provides plenty of functionality to guarantee easy access to everything you'll need to run a successful campaign. You can use your CRM and CDP integrations to segment your clients and send them targeted messages. For instance, you can reach out to customers who have abandoned a cart, to remind them to complete their purchase or to collect feedback for why they haven't been able to do that.  
Build your brand by sending personalized messages
Here are some more tips to utilize Viber's full potential for your marketing and sales:
Take advantage of the ability to connect with buyers in real time. This will help you build a rapport and strengthen your position as a brand they'd likely turn to when needed.
Create a dedicated customer support channel, which can help resolve issues and keep people satisfied. It's a perfect place to include your detailed FAQ section.
Promote your brand and connect with people on a personal level. You can target specific demographics with your marketing texts, which will help you boost profits.
Also, you can connect with employees, which can help improve communication and collaboration within your team.
Examples of successful integration of Viber Business Messages
The app makes it easy to connect with your customers as they wait in line at the store, browse your website, or chat with your support team. Companies have been successful in enhancing communication thanks to Viber Business Messages. Here are some case studies from brands worldwide to put things into perspective:
Comfy is a leading multichannel retailer of household appliances and electronics in Ukraine. They offer a wide range of products from the world's leading brands at the most competitive prices. Comfy turned to Viber's trusted messaging partner GMS to bolster their suite of communication channels. With the Viber Business Messages' rich media capabilities and compelling CTAs, Comfy was able to achieve immediate reach. This helped raise the number of sales with a final turnover surge of +10%.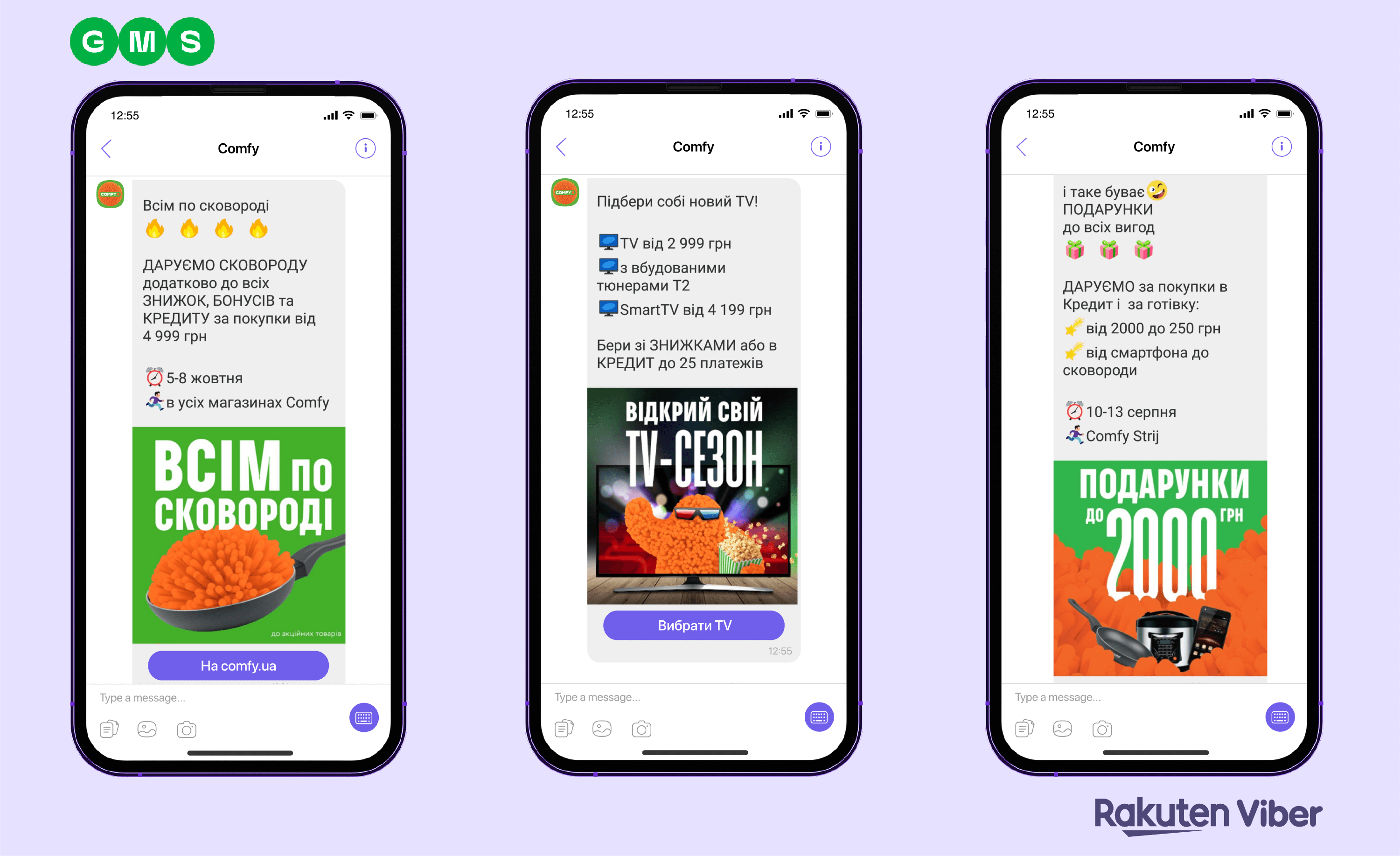 Leroy Merlin is a French home improvement and gardening retailer that operates in several countries in Europe and South America. The company is Europe's largest home improvement retailer and the third largest in the world. Leroy Merlin was searching for a way to improve customer service at checkout and expand basket size and turned to Viber's official messaging partner M-STAT. They chose Viber Business Messages for communication with customers, which helped them achieve both goals. Among the successful results of the campaign were a 300% faster customer service and a 20% growth in the basket size. 
Privatbank is the largest commercial bank in Ukraine, with a wide range of banking services to both individuals and companies, including loans, savings, investment products, credit cards, and more. In an effort to engage a new target audience and retain its position as a top bank in the country, Privatbank wished to boost brand trust and loyalty. With help of Viber's trusted messaging partner Messaggio, Privatbank started using Viber Business Messages to inform its users about new banking products, attract the attention of potential users and grow audience reach. The bank started by sending out messages to existing clients, informing them about new products and services. This not only helped raise customer awareness but also led to an increase in clientele loyalty, satisfaction, and a 10% growth in banking service usage on Viber. 
Viber Business Messages is a great tool for companies to communicate with their customers. It is a safe and secure solution that allows companies to deliver texts without having to worry about the message being intercepted or hacked. Now, you can easily connect with your shoppers through the Viber app, making it easier to stay connected and provide great service.